Letter from the President
"Creating a people- and earth-friendly
future through plastics technology"

is C.I. TAKIRON Group's mission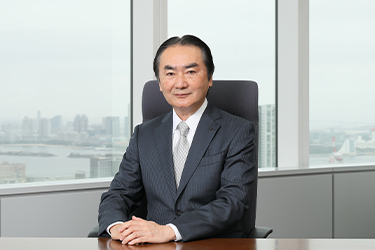 On April 1, 2017, Takiron Co., Ltd. and C.I. Kasei Company, Limited merged and started anew as C.I. TAKIRON Corporation.
Both companies, as general plastic manufactures, used unique technological innovations to introduce numerous high-quality and high value-added products to respond to customer needs and grow their businesses since their establishment in 1919 and 1963, respectively.
Today, we face a business environment that is continually harsh and has many causes for concern, such as shrinking of the market due to sluggish growth in the construction of new single-family homes and cutbacks in public investments, a slowdown in consumer spending and domestic demand, and an increase in international price competition associated with entry of competitors. Within this environment, the C.I. TAKIRON Group has established its Mid-term Management Plan, "Good chemistry Good growth 2020," with FY 2017 as the first year.
Our management vision, "Contributing to society as the industry's leading company by taking on new challenges and continually implementing plans," reflects the philosophy behind our business merger. We will push forward to attain consolidated net sales of 180 billion yen, consolidated operating income of 12 billion yen and consolidated net income of 7.5 billion yen in FY 2020.
The C.I. TAKIRON Group, comprised of C.I. TAKIRON and its subsidiaries and affiliates, has been working to achieve this vision by reinforcing its management foundations, integrating and revitalizing our human resources and improving operational efficiency. In the existing matured areas of our operations, we are further promoting structural reforms and extracting synergy from our merger, thereby strengthening our competitiveness and profitability. For our growth areas, we will expand our businesses through proactive capital investments and become actively involved in restructuring the industry with the goal of expanding scope of our business. We look forward to your continued support.
Yosuke Minamitani
President and Representative Director