Technology and R&D
We work daily on technology and R&D to unearth the potential needs of the market and customers, and create more new products.
Technology Development Policies
We actively develop technologies that strengthen and enhance the various properties of plastics, paving the way to new areas.

Technological developments become valuable only when they have practical applications for customers. We have been focusing on developing properties such as flame-retardancy, fireproofness, heat/sound suppression, and higher durability.
By approaching new technology developments and improvements, and venturing out of existing fields, we continue to develop technologies that are useful for new products and areas.
R&D Policies
In R&D, we are working to strengthen manufacturing competitiveness which is fundamental to a manufacturer.

The products supplied by our Group cover a wide range of fields, based on core technologies focused on various methods of processing plastic resins. In order to apply technologies established in each field to the entire Group, we have set up Planning and Marketing departments. These departments also monitor the latest trends and explore potential customer and market needs to help create more new products.
Technology Development System for Existing Business
We work to plan and develop new products that will swiftly cater to market, by keeping close relations with the customers. Furthermore, we develop processing, installation and/or construction technologies while taking the lead in collaborations among factories and group corporations to create new products and renew existing ones.
R&D System for New Business Development
We conduct research that results in the development of diversified film, sheet and panel products with unique properties and characteristics by pursuing the potential of plastic resins. To do this, we also strive to increase value by combining molding processes and exploring the potential of various plastics and formulations of compounds with processing technologies and other related technologies.
We also conduct research and analysis of all kinds of plastics and their processing technologies which contribute to the development of new products and improvement of quality, while reinforcing the basic technology of the entire Group.
In addition to the daily work mentioned above, we also proceed with basic and mid-and-long-term research activities connected with innovative product development.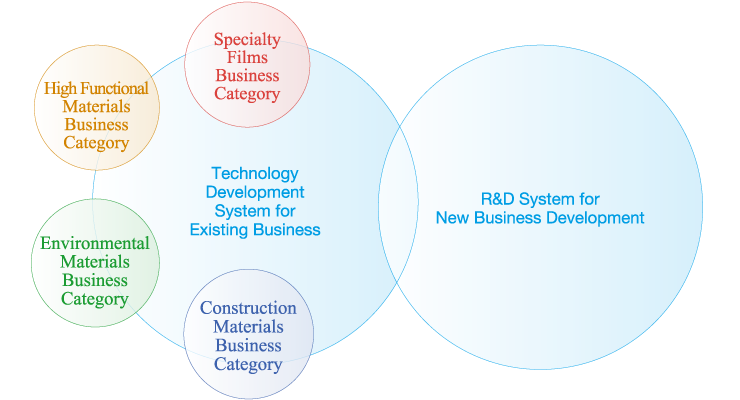 Product Examples
Large-sized Joint Type System
Panels Made of Polycarbonate
Construction Materials Business

The system makes low-carbon structures a reality and retains light within buildings by utilizing natural light to its full potential.
Slip-resistant Vinyl Flooring
Construction Materials Business

Offers different design and colors by the reflectional embossing pattern and easy maintenance with the fine textured surface.
Agricultural Polyolefin Film
Environmental Materials Business

A five-layered agricultural PO film with an extremely long useable life. The film is treated on both sides with a special liquid that makes it dust and drip resistant.
Conductive Waterproof Geomembrane
Environmental Materials Business

This unique Geomembrane allow electrical inspection for damage. This is made possible due to their structure of multiple conductive and non-conductive layers.
Biomass Plastics
High Functional Materials Business

Environmentally-friendly plastics that contribute to the creation of a low-carbon society by using bio-derived materials.
FM Compliant Plates
High Functional Materials Business

Made of flameproof material that meets the FM 4910 standards, which were established to prevent fire with materials that are flame-retardant.
PET Film for Bundling Noodles
Specialty Films Business

A heat shrinkable film designed with stretchability and thickness so it can be used as a band.
Audible and Tactile Zipper
Specialty Films Business

An innovative zipper tape that offers a distinct sound and feeling when opened and closed.